CORFIAT CUISINE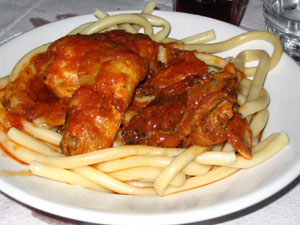 The Corfiat cuisine distinguishes for its unique tastes. The island was under the command of Enetics for 411 years! So, basically the island's cuisine remains venetian. It is remarkable that even today the names of the dishes and the way they are produced stays the same.
Every feast has its own dish. Characteristic are the pancakes offered the day before the saint's birthday, the sponge cakes (pane di spagna) in births, agiada (garlic source) on the day of the Cross, the egglemon soup in Christmas, the cock pastitsada on the day of Panagia and the snails bourdeto on the day of Pantocrator.
In ancient times the conservation of food was the main concern of the residents in poorest regions. That's why a basic component of their diet was savouro. It is a special way of cooking and conserving fish and vegetables in vinegar, oil salt with dendrolovano and caper. The conservation of food was made with coarse salt, produced in Alikes (dried fish in layers of salt) and by drying them in the sun (sun-cured tomatoes, peppers, etc.)

Today you can find a lot of restaurants following the modern life style with light cuisine, but and every kind of cuisine (italian, french, chinese, mexican, etc.).Despite all these restaurants you will find more cooking traditional recipes. Bourdeto, sofrito, pastitsada, stifado, strapatsada, tsigareli, the grannies' pastitsio, bakaliaros with agiada, etc.
The long nutritive tradition of Corfu, incorporating the modern elements, manages to keep the characteristics of the local cuisine. So, Corfu's recipes are the preference of most visitors.
Other characteristic sweets of Eptanisa islands are mantoles, pastelia and mantolata.
The favorite drink of Corfu's residents apart from the local wine and traditional liqueur of koum-kouat, is tsitsibira. It is refreshment with basic ingredient ginger produced only in Corfu since the times of the English domination. It is made from lemon juice, detrited ginger, white raisins, water and sugar. Nowadays it is only produced in a small factory that "blends" in its cauldrons this historic refreshment. It is very cooling and tasty, but it has to be drunk within three weeks. It is usually served in coffeehouses from Easter to Fall. It is better drunk fresh and cool.