MON REPOS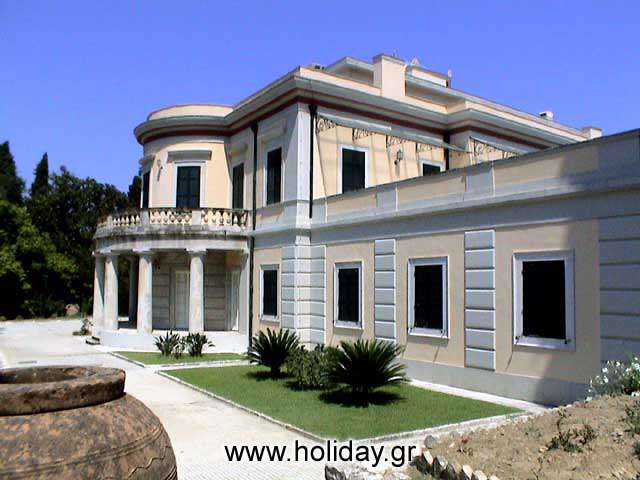 The land of Mon Repos has an extent of 258 sq. m. (!) and takes up the biggest part of the hill of Analipsis where Paleopolis was located, the ancient town of Corfu. It is 3km from the center in one of the best locations of the island.
Almost in the center of the garden is the imposing palace built in 1824 by the English commissioner FredericAdam, as his summer resort. It is a grandiose building that was the rural house for every commissioner during the English domain.
After the incorporation of the Ionian islands with Greece, Mon Repo, was given from the municipality to king George The First as his rural house. In this palace, in 1921, was born the Duke of Edinburg Fillip Maunbaten, Elizabeth's husband.
After the abolition of monarchy, Mon Repo, after long trial adventures, came to the hands of the municipality of Corfu and today operates as a museum.

The antiquities of Mon Repo
In the gardens of Mon Repo, apart from the palace, are the remains of important antiquities. This region, according to the archaeological findings, was the center of Paleopolis. This ancient town lengthens from Anemomilos to Kanoni and used to have two ports. The port of Alkinoos and the Illaic port. Three important antiquities that the visitor can see are: the remains of the basilica of Saint Kerkira, built in the beginnings of the 5th century on the bases of the roman conservatoire. In its entrance are saved two fluted pillars of Korinthian rhythm. Despite the catastrophes of the temple, many parts of it, sculptures and mosaic, are saved.
In the region of Paleopolis is located the best saved ancient temple in Corfu. It is a small temple of Doric style dated from the 6th century and is consisted of 11 pillars. According to the local tradition this temple was dedicated to Poseidon. But the archeologists believe that it was dedicated to Asklipios or Apollo.
The biggest temple of ancient Corfu, as it seems from the remains, was that of Hera, located in the right of the palace. But unfortunately it has suffered a lot of catastrophes.