Ermones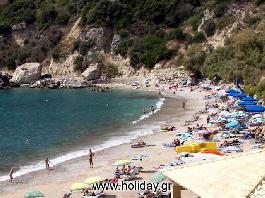 Continuing our peregrination in the west shores of Corfu we meet the small settlement of Ermones. It is located 18km from the city and has big tourist development.
Here you will see one of the most impressive sceneries in the island. It is a closed cove surrounded by high and abrupt rocks. The waters of the sea are steep and cold. In spite its wild beauty, Ermones gather a lot of visitors that come to the village to see the beach in which-according to tradition-Nausica found Odysseus. It is a fact that the region fits to the description of Homer for the shore that Alkinoos' daughter, Nausica, found Odysseus.
With the beach of Ermones is connected another local legend, according to which one of the rocks surrounding the cove is a stone-still pirate, who tried to steal the icon of Panagia. Indeed, there is a rock that looks like a human figure. There are a lot of hotels and rooms to let in the region.