Gastouri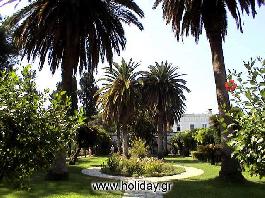 Graphic village in the south part of Corfu, 12km from the city. It is a beautiful village that keeps the traditional architecture, built in a green location. Ornament of the region is the famous Achillion, the palace of emperor Elizabeth of Austria(Sissy). It is one of the sites in Corfu that every visitors wants to see. The baronial palace was built by Sissy in 1889 who was enchanted by the island's beauties. She named it Achillion in honor of Troian's war hero.
It is worth seeing what is left from Kaiser's bridge. A stone bridge that connected Achillion with the beach of Benitses. In Gastouri was established the first Philharmonic orchestra of Corfu in 1898.
Because of Achillion palace, the region has big tourist development. There are a lot of hotels and rooms to let in Gastouri. You can have a pleasant evening in the bars and clubs of the region listening to greek or foreign music.