Dassia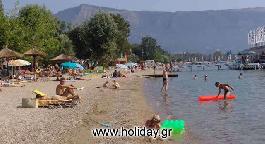 The port of the northeastern coast. It is located 13km from the city in a verdurous region of vineyards.
The cosmopolitan summer resort of Dassia is one of the first villages in Corfu that made worth of its tourist beauties.
There are a lot of luxurious hotels, rooms to let and highly organized camping in Dassia. In the center of the settlement you will find a lot of shops to make your buys from. In the taverns of Dassia you can taste recipes of the corfiat cuisine. Nightlife is full of surprises.
The endless and crowed sandy beach of Dassia and the small isolated coves offer everything to bathers.