Paleokastritsa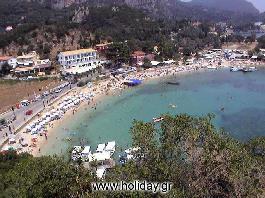 Paleokastritsa is the most famous tourist resort in Corfu. It is a region of unique beauty. Characteristic of this region is the alteration of sceneries. Endless vineyards, hills verdurous with pines, rocky shores and lacy beaches, all beauties of nature create an earthly paradise. Is it really by accident that in the highest top of the hills, is located the castle- monastery of Panagia?
The dreamy Paleokastritsa is located in the northwestern part of the island, 25km from the city. It was discovered tourist by English (authors and painters of the 19th century). English, during the period 1814-1864 when the island was under the British protection, constructed the first road that connected the historic monastery with the city. Until 1950 when Paleokastritsa started to develop its tourist foundations, the homonym monastery was the only building in this crowded region.
Paleokastritsa is one of the first regions in Corfu that attracted naturalists and gained international fame. The impressive thing about this island is that tourist invasion didn't diluted it's natural beauties.
Today Paleokastritsa has a lot of hotels of all categories offering a pleasant accommodation to their guests, rooms to let and organized camping. Restaurants with recipes from the local and international cuisine, coffeehouses and bars and many shops to buy souvenirs and traditional products.
Paleokastritsa owes its fame to her magic beaches. Six coves (Agios Spirydonas, Agia Triada, Agios Petros, Ampelaki, Platakia and Alipa) and a small graphic port combine a scenery from abrupt rocks, green hills, golden beaches, colourful pebbles and blue waters. Another reason for visiting Paleokastritsa is the bottom of her sea. Thousands of divers visit it every year to explore it. A boat in the marine caves will fill you with unique pictures.
Don't miss visiting the monastery of Panagia. This byzantine building was constructed in 1228 and reconstructed during the 15th century. It is built on the top of a green hill. In the monastery's museum you will see a remarkable collection of byzantine icons and ecclesiastic heirlooms.
The view from the monastery is extraordinary. You can see Agelokastro, the byzantine fortress of the 13th century in village Krini, on the hill right across the monastery.
From Paleokastritsa you can visit the traditional settlements of Doukades, Lakones and Krini.