Moraitika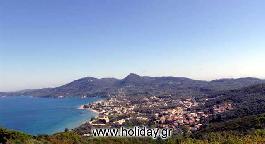 Moraitika is a coastal settlement 20km south of the city. The region distinguishes for its tourist growth and hotel units.
The settlement is built near the river Messongi's mouth. There, you can see the remains of a greek roman building. According to archaeological excavations, the region is inhabited since neolithic Age. In fact you can see the remains of a temple from the 3rd century BC.
Very close to it, is the settlement of Agios Ioannis Peristeron.