PALACE SAINT MICHAEL AND GEORGE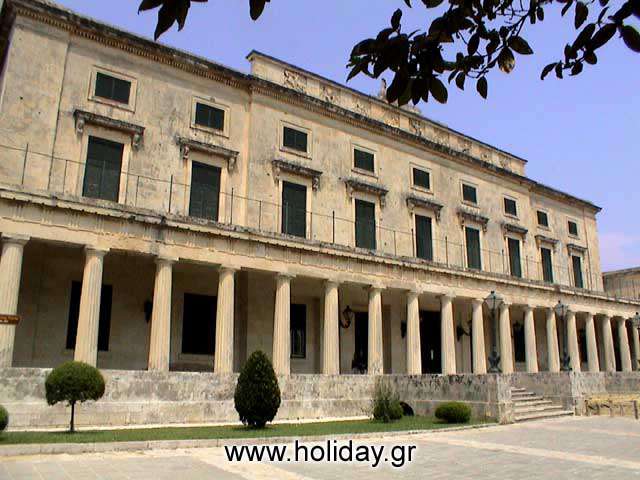 The palace of Saints Michael and George is located in the north side of Spianada plateau and it's one of the most impressive sites in Corfu. It was built during the period of 1819-1813 by the English Commissioner Thomas Maitlant. It is with no doubt the most important monument of the english period and one of the firsts of neoclassic style, built in Greece. It is the second in size palace-after the palace of Otto, the current Parliament of Greeks.
It is built with stones from Malta. Its entrance is decorated with a peristilium of Doric style, interrupted by two portals that of Saint Michael on the right and that of Saint George on the left. In the central part on the entablature of the building you can see anaglyph allegoric pictures of the seven Ionian islands. The interior of the building is decorated with sculptures and paintings. Most of the sculptures are made by the sculptor Proselenti.
The palace was used as a residence of the English Commissioner and as seat for the tagma of Saints Michael and George from whom it took its name. It was also the seat of the Ionian Senate. After the Ionian islands attached to Greece it was the rural house of the royal family.
From 1913 until 1993 the palace hosted the museum of Sino Japanese art. Today it hosts the museum of Asiatic art, the City Library, various cultural events and periodic exhibitions.