LION OF BAVARIA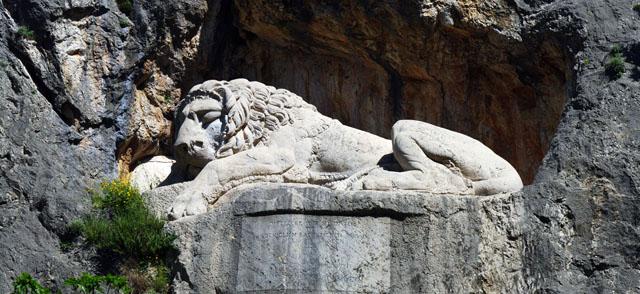 Among the church of Agion Panton and the current cemetery of the city, one finds in Michael Iatrou Street, an exquisitely sculptured monument, one of the most important of 19th century's Greece, known as the Lion of Bavaria, which dates from 1840 to 1841.

The lion, which has been attributed to a monumental scale by carving into the rock, is depicted asleep. Sculptor of this beautiful monument is German, Kristian Ziegel, who was the first professor of sculpture at the University of Athens. Standard for the work of Ziegel was the Lion of Lucerne's of famous Danish sculptor Bertel Torvaldsen.

Below the Lion of Bavaria there is a German inscription on the rock from which we learn that the monument was ordered by the king of Bavaria, Ludwig, father of the first king of the Greeks, Otto of Bavaria in memory of the soldiers who belonged to the sequence of Otto and had died of epidemic typhus in Nafplio in the years 1833 and 1834.

The Bavarians were buried in the nearby cemetery of Agion Panton and in an area northeast of Evangelistrias, which had remained known as the "Bavarian graves" Later the bones were deposited in the crypt of the Catholic Church in Nafplion.

Today, the space in front of the Lion of Bavaria has turned into a small park with benches and offers a little respite during the tour in this part of town.