ARVANITIA OF NAFPLIO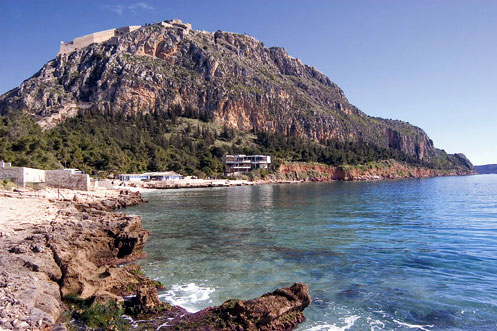 The "round of Arvanitia", as it is called by the inhabitants of the city, is the favorite promenade of residents of Nafplion. It starts at the end of the beach and ends at the square of Arvanitia, with a total distance of around 1 km.

Along the route is dominated by rocks fo Akronafplia with the imposing walls. Shortly before the mid-walking, one encounters on the rocks, a small chapel, which is a favorite pilgrimage to both city residents and visitors.

It is Panagitsa, Panagia of the Cave, Santa Maria della Grotta of the Venetians. The view to the bay of Argoliko is unique from here.

The tour ends at the square of Arvanitia. The region, according to tradition, named Arvanitia because of its rocks, in 1779, said the Captain Pasha threw the Albanian mercenaries who ravaged the region.

In reality, the name stems from the fact that in this region, which was outside the walls and east of "Pyli tis Ksiras" (Land Gate), lived Albanians, since the first years of Venetian domination.

Below the square is an organized beach where one can enjoy swimming.

After the square of Arvanitia, you can continue your walk to the east foothills of Palamidi, and reach a total distance of 2.7 km around the beach of Karathonas.

If anyone still wants to return to the old city, may descend from the square of Arvanitia to Staikopoulos Park and "Pyli tis Ksiras" (Land Gate).