LAND GATE OF NAFPLIO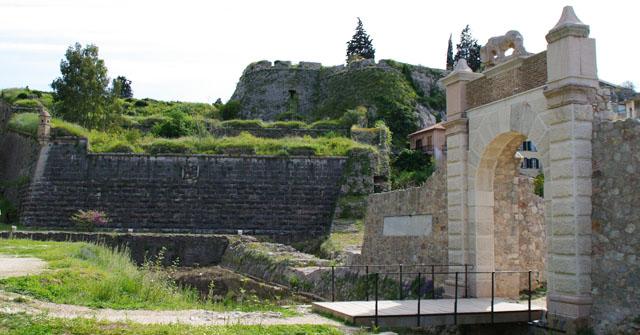 The Land Gate was built in 1708 by the French engineer Lassale and it is the successor of the first gate of Venetian domination. It was the only entrance to the lower city by land and the gate closed after sunset. Anyone who remained outside were forced to spend the night outside the walls, usually in a suburb of Providence. In front of the gate there was a water ditch that ran round the east walls of the city and the access to the gate was by movable wooden bridge.

The Gate demolished progressively from 1894 to 1897. Around 1894 the moat which skirted it, was rammed.

From the Gate survived only a few architectural members and sculptures, such as the stone lion of the crowning, which is missing its head, wings and tail, and the plate with the emblem of the Venetian governor Grimani with the date 1708.

Today, the outside face of the gate has been rebuilt, after special study about how it was in its original form.

Overall, the look of the gate is simple, arched, with two pilasters either side, while on its the peak it is decorated with a sculpted lion, symbol of the Republic of Venice.

Near the left pilaster of the gate, there is votive plaque commemorating liberation of Nafplion from the Venetians with commander Francesco Morozini in the year 1687.