BEACH - PORT OF NAFPLIO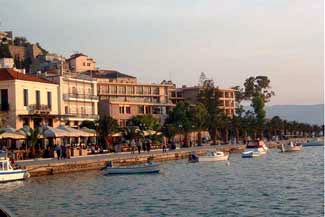 During the First Venetian domination, on the present beach was formed an artificial breakwater, which left a fairway between this and Bourtzi.

This channel was closed each evening with chain and for this reason, the port was called Porto Katena, "Port with the chain".

Within the breakwater was formed the port of Nafplion, except the period of the second Turkish Domination, was one of the most important trading posts of the Peloponnese.

Below the hotel "Amfitryon", in the middle of the beach there was great reservoir of the early 18th century, one of the most impressive creations of the Venetians in the city.

Today, the beach is to sit in one of the beautiful cafeterias and enjoy the beautiful views of the Bourtzi, especially at sunset.