BOURTZI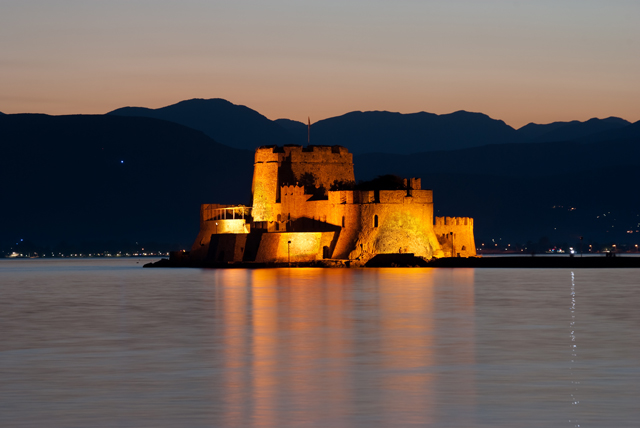 The fortress on the sea, which is known with the Turkish name Bourtzi, which means tower, is a trademark of the city of Nafplion.

Initially in this islet, which lies in the middle of the harbor, there was a Byzantine church dedicated to St. Theodore.

The Venetians realizing its strategic location to protect the harbor, built a tower around 1473, on this rocky island. The Italian architect Antonio Gabela, who had, also, undertaken the building of the Castle of Toroni, designed the fortress, which was completed by the engineer Brankaleone.

The design of the fortress is attached to the elongated shape of the rocks. The center of the fort is occupied by a tower in the shape of an irregular hexagon, with shaded cannons either side of it, on a lower level.

The interior is three-storey tower and communication between the floors is done with ladders for safety reasons. The need of water was covered by a large circular tank located in the basement of the tower.

The entrances were to the north and south. In the north-east was formed a small cove to access safely the fort.

Among the fort and the mole was a narrow passage which was closing with chain, for the safety of the harbor from enemy ships.

The fort has several modifications and repairs carried out at different times.

The Turks surrounded the Bourtzi with the so-called porporella, underwater barrier of stones, so as not to allow the approach of large ships.

In the 18th century, the Venetians made additions to Bourtzi. They arised the central tower and almost the entire island was covered with fortifications.