Myrtos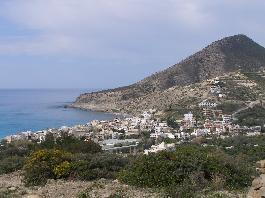 Myrtos Lasithiou is a charming village located in the eastern part of Crete, Greece. Surrounded by mountains and olive groves, the village is known for its natural beauty and traditional way of life. Here are some things to do in Myrtos Lasithiou:
Visit the beach: Myrtos Beach is a stunning blue-flag beach located just a short walk from the village. With crystal clear waters and a long stretch of golden sand, it's the perfect place to relax and soak up the sun.

Hiking: The surrounding mountains offer a range of hiking trails with breathtaking views of the surrounding landscape. Take a guided tour or explore on your own to discover the hidden gems of the area.

Visit the Olive Oil Museum: Learn about the traditional production of olive oil at the Olive Oil Museum. You can also purchase some high-quality olive oil to take home as a souvenir.

Explore the village: Take a stroll around the village and admire the traditional architecture, charming alleys, and stunning views. Stop by the local shops and tavernas to try some delicious Cretan cuisine.

Take a boat trip: Explore the beautiful coastline of Crete by taking a boat trip. Visit secluded coves, hidden beaches, and enjoy the breathtaking scenery.

Visit nearby archaeological sites: There are several archaeological sites located near Myrtos Lasithiou, such as the Minoan Palace of Zakros, the ancient city of Ierapetra, and the historic island of Spinalonga.

Attend local festivals: The village hosts several festivals throughout the year, including the Myrtos Wine Festival and the Feast of St. John the Baptist. Experience the traditional Cretan culture, music, and dance during these festive occasions.

Visit the nearby Vai Palm Forest: Located just a short drive from Myrtos Lasithiou, the Vai Palm Forest is the largest natural palm forest in Europe. Take a walk among the palm trees and enjoy the stunning views of the surrounding landscape.