Gerolimenas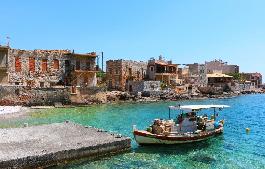 Gerolimenas village is situated at the south end of Lakonia, close to Tenaro cape and at the east side of Cavo Grosso. It is believed to be built on the remains of the ancient Ippola, 96 km from Sparta. During ancient times the town was called "Ieros Limelas" (Sacred Harbor). Its name is a paraphrase of this allocution.
Gerolimenas' natural harbor and the incomparable view to the infinite blue and Tenaro cape create unique pictures they will stay for ever in your mind.
Gerolimenas used to be the most significant commercial harbor of Mesa Mani. Today it is a famous tourist resort with many hotels, traditional guesthouses and fish taverns.

During your stay in Gerolimenas make the circumnavigation of the peninsula and visit regions that can't be reached by car.
The small church of Asomatos is built with the remains of ancient ruins. Very close to it, is the Cave of Adis where God Poseidon was worshipped, and a few steps away the Porto Sternes with the temple of Tenarios Poseidon.

The beach of Gerolimenas is ideal for swimming. It is a really enchanting beach, a pole of attraction for the lovers of swimming.
8 km from Gerolimenas is the village of Mezapos. One of the most beautiful villages in Mani, built at the end of the homonym cove.