Monemvasia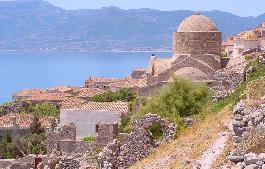 Monemvasia. One of the most beautiful and attractive regions in Lakonia and Peloponese. The rock of Monemvasia stands 95 km southeastwards of Sparta and attracts thousands of visitors all year round.
A low bridge connects the rock with the coast. This sole entry gave the city its name. The infixes "Moni" and "Emvasis" show that Monemvasia is accessible only through an entrance (the narrow strip of land which connects the rock with the east shore of Lakonia). The famous castle-town was founded during the Byzantine period and was one of the most important castles in Peloponese. The stone-built houses, the old manor houses, the Byzantine churches and the strong fortifications cause awe and admiration to every visitor.

Monemvasia is consisted of two settlements: Epano Poli, which is built at the top of the rock, and Kato Poli, built at the southeast part of the hill. These two settlements were inside the castle walls and communicated through a staircase. The only monument saved in Epano Poli is the church of Saint Sophia. Kato Poli has tall stone built houses, narrow cobblestone paths and churches that take visitors back to past times. Many old houses operate now as traditional guesthouses. Staying at of them can be an unforgettable experience to all visitors as the atmosphere is really romantic.

The new settlement of Monemvasia is outside the castle walls and offers all tourist facilities. There are many accommodation and entertainment opportunities satisfying all tastes.