Megas limionas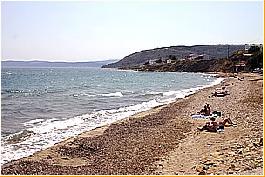 Megas Limionas beach is situated 7 kilometers south of Chios city, mear Thymiana village.
It's one of the most beatiful beaches of the island of Chios. With deep blue sea, sand and small pebbles, it's a challenge for relaxing sun bathing and summer vacations.
It's name comes from the old times, because the bay was well protected from the north winds and it was used as a shelter for the ships carrying their goods from near island and Asia Minnor.
In remembrence to the fights with the pirates during the Middle Age, the famous "Mostra" in Thimiana village takes place every year during the end of the carnival period.