Agios petros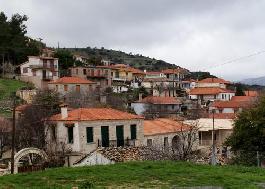 The village of Agios Petros is a picturesque village situated in the foothills of Parnonas. It lies in an area overgrown with chestnut, apple, and cherry trees. Located at a distance of 38 kilometers from Tripoli and 30 km from the Astros. It is a traditional village that is an alternative to stay close in the green nature.

The village which in antiquity was apple of discord between Spartans and Argives, now evolving into a tourist resort county. It presents tourists throughout the year, where contribute largely worshipers of the Monastery of Panagia Malevis. It is a Byzantine monastery founded in 950.

Also notable are the churches of St. Peter and St. Paul and St. Nile. From the sights worth seeing the Aga Tower or Trikalioti dating from the 18th century. It is a fortified house consisting of two floors and a basement, with turrets at the corners and scalding bowl above the entrance.

Here you will see the medieval castle of Oria, also known by the folk song that tells the story of Venetian lady who fought for 12 years the Turks there.

In the village square impressions earns the magnificent fountain with inscription dating from 1769. In the outer arc of the dome carved stones bearing incised decoration and imitation columns that hold the inner dome.

Saint Peter is ideal for trekking and mountaineering. There are paths that lead to the peaks of the mountain Parnonas of refuge. The ascent to the highest peak, Great Tourla lasts about 4 hours. From here and also passes the European path E4.