Vitsa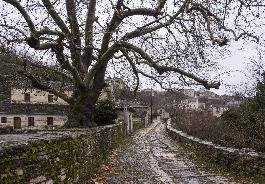 Vitsa is a picturesque village located in the Zagori region of Greece. It is known for its traditional stone houses, scenic landscapes, and proximity to various natural attractions.

Vitsa is a small village located in the Zagori region of Greece. While it may not have as many attractions or activities as larger towns in the area, Vitsa offers a peaceful and picturesque setting for visitors to enjoy. Here are some specific things you can do in Vitsa Zagori:
Explore the village: Take a leisurely walk through the narrow streets of Vitsa and soak in the traditional architecture and charm of the stone-built houses. Admire the beautiful gardens and courtyards that add to the village's character.

Visit the Church of Agioi Theodoroi: This 18th-century church is one of the prominent landmarks in Vitsa. It features a unique architectural style and intricate frescoes. Take some time to appreciate the religious and historical significance of the church.

Enjoy the panoramic views: Vitsa offers stunning panoramic views of the surrounding mountains and valleys. Find a spot to sit, relax, and take in the natural beauty of the Zagori region. The village's elevated location provides excellent opportunities for photography.

Discover nearby hiking trails: While Vitsa itself may not have extensive hiking trails, there are several routes that start or pass through the village. You can embark on shorter hikes to nearby attractions like the Vitsa Bridge or choose to explore longer routes that connect different Zagori villages. Make sure to gather information on trail difficulty and length before setting out.

Indulge in local cuisine: Experience the traditional Zagorian cuisine by visiting one of the taverns or restaurants in Vitsa. Taste local dishes made with fresh, regional ingredients, such as pies, meat specialties, and dairy products. Don't forget to try the local honey and traditional desserts like baklava or ravani.

Attend cultural events: Keep an eye out for any cultural events or festivals taking place in Vitsa or the nearby villages. These events often showcase local traditions, music, and dance, providing a unique opportunity to immerse yourself in the local culture.

Take day trips to nearby attractions: While Vitsa itself is a charming village, you can also explore other attractions in the Zagori region. Visit nearby villages like Monodendri, Papigo, or Aristi, which offer similar traditional beauty and sightseeing opportunities. You can also consider visiting the stunning Vikos Gorge, the impressive stone bridges, or the natural pools of the Voidomatis River.