SANTORINI INFO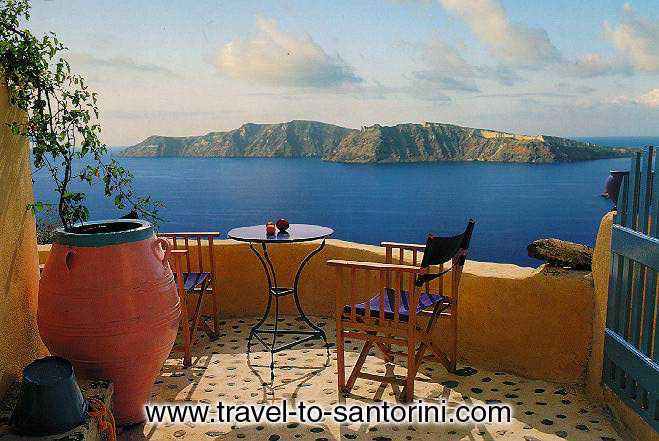 Santorini is the most extraordinary island in the Aegean . You sail into a strange, enclosed sea, shut off by the Burnt Islands . The volcanic cliffs of Santorini are red, brown or greenish, surmounted by a string of white villages. It is rather like a model of a monster's jaw made by some infernal dentist; a sinister and alarming place, like nowhere else.

Jetting out from the deep blue sea its volcanic sheer cliffs topped with gleaming white village homes and churches, resemble snowcapped mountains. The thunderous fury of nature left its mark on the island, the home of Greece 's last active volcano which still smolders today. Layer upon layer of red volcanic rock interspersed with white buildings and specks of greenery form a visual demonstration found nowhere else.

The entire center of the circular island sank into the sea during the tremendous volcanic explosion of 3.500 years ago. The eruption caused tidal waves which virtually wiped out the advanced Minoan civilization of Crete 70 miles to the south. Some scholars believe that the island is part of the legendary lost continent of Atlantis which supposedly slipped underwater during the disaster.

What remains today of Santorini is a large cresent-shaped island enclosing a vast bay, the largest caldera on earth (7X14 miles). There are also four much smaller islands called Thirassia, Nea Kameni, Palia Kameni and Aspronisi.

The destroyed castle of Skaros , it is worth to visit. Kamari, Perisa, Perivolos and Monolithos are the most popular black sandy beaches of the island. Pyrgos is a large village retaining its medieval features. The village has fine old houses, a ruined Venetians castles and Byzantine churches, the most notable is the Theotokaki.

Other traditional villages are: Karterados, is 2km east from Fira, Messaria is geographically in the center of the island, Megalochori is located 9km fron Fira, Mesa Gonia has suffered greatly during 1956is earthquake and many of its residents abandoned it to settle in the village of Kamari . The most significant Byzantine monument on the island, Panagia Episcopi is located here. It was built in the end of the 11th century with all expenses paid by the Byzantine emperor, Alexios Komninos. Also Emporio, Messaria and Vothonas have some commercial interest .