CHURCHES - MONASTERIES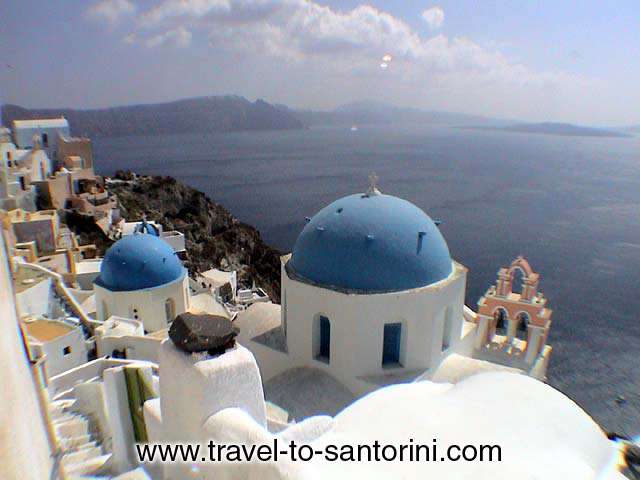 As you go around Santorini you realise that there are too many churches in the island. According to the locals there are about 300 churches built in different historic periods.
What is characteristic about them is that they combine elements of the cycladic architecture with these of the western culture. So, we come around orthodox churches of different styles, other small and other imposing.
Most of them are painted white or with ochra, while their domes are either white or blue. Very often they have two belltowers in the front according to the model of cathedrals.

THE ORTHODOX CATHEDRAL CHURCH OF METROPOLIS
The Metropolitan Chruch of the island is located in Fira and has a spectacular view towards caldera and volcano. The church is dedicated to Virgin Mary and it was built in 1827. It suffered a lot of damage during the 1956 earthquake. It is renovated and has gained once again its old glory. The local painter Xristoforos Asimis has painted the temple's frescoes.

THE CATHOLIC CATHEDRAL CHURCH
In the center of Fira is located the Catholic Cathedral which is dedicated to Saint John the Baptist. It is built according the baroque style and distinguishes for its elegant belltower. It suffered a lot of damages during the 1956 earthquake but it has been renovated.

PANAGIA EPISKOPI
It is located in village Mesa Gonia and it is the most important Byzantine monument in Santorini. The Emperor Alexios Komninos the 1st built it during the 11th century. Interesting is the iconostasis made of marble, a rare sample of marble carving. The frescoes of the church are in a very good condition and date back to the 11th century. In 1986 the 2nd agency for Byzantine antiquities repaired the front as well as the roof of the church. There have also been made some additional structures like the belltower and a staircase. The present shape of the church has a little to do with that of 11th century.

THE MONASTERY OF SAINT NIKOLAOS
It is situated between Firostefani and Imerovigli. It is well known because it is dedicated to three Saints, to Saint Pandeleimon, Saint Nikolaos and Zoodoho Pigi. It is known as the monastery of Saint Nikolaos because of its exceptional Byzantine fresco inside the monastery. The exact date it was built stays unknown.

THE MONASTERY OF PROPHET ELIA
In village Pyrgos and on the top of the mountain lies then monastery of Prophet Ilia. It was built between 1711 – 1724. At first it was smaller but expanded during the 19th century. The carved in wood iconostasis of the church inside the monastery is a piece of art. There is a museum inside the monastery with religious and folklor artifacts dating back to the 15th century.