VOLCANO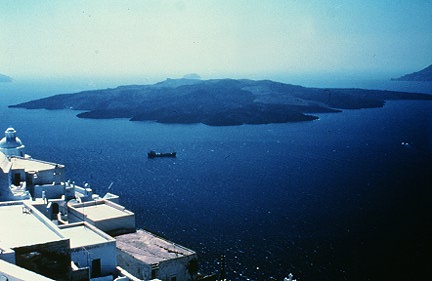 Santorini and the Volcano are two parralel stories, which every now and then are brought together by fate. When the volcano wakes plays with history. And when it sleeps it leaves the island to flourish.

According to historic data the activity of the volcano disappears through the depths of the centuries. It is estimated that the first erruption occured around 80.000 BC. Because of this erruption the island of Strongilli was created.
Around 1450 BC the volcano errupted in the most violent way that has ever been recorded worldwide the past 10.000 years.
This explosion destroyed completely the civilization of Strongilli and changed the shape of the island, as a large part of it sank in the depths of the Aegian Sea. Thus Strongilli was formed like a half-moon, while later explosions created two smaller islands. Thirassia and Aspronisi.
The ash of the volcano covered the whole of the eastern Mediterranean. Although it has not been proved, it is believed that the erruption was the cause of destruction of the Minoan civilization. In Crete there have been found volcanic petrifications and ash of that period.
Santorini is shaped by the various volcanic transitions. After the large explosion in 1450 BC that shocked all of the ancient world, more explosions of smaller size followed. Result of these eruptions is the island of Old Kameni.
There have been totally 12 large-scale eruption during the past 200.000 years. The excavations have shown that the inhabitants managed to evacuate the island, as in the settlements no human skeletons were found. A fact that leads to the conclusion that earthquakes had warned the inhabitants of the imminent catastrophe. The erruption that occured in the 15th century created the island of Small Kameni.
In 1707 the volcano woke up again. For five years its activity troubled the locals as the island was shaking by earthquakes every now and then. Then Nea Kameni was created. This small island is the youngest volcanic land in the East Mediterranean Sea.
Some smaller erruptions and earthquakes followed, in 1866 and in 1925. The last activity of the volcano was recorded in 1956. Then the island suffered huge catastrophes. But for one more time the locals rebuilted their houses and went on with their lifes.