Meteora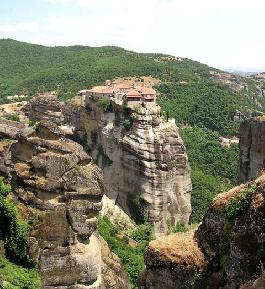 Meteora are a rare geological phenomenon, which in combination to human will, have created one of the most important monuments in the world.
Visitors are awed by the huge, gigantic rocks. The monasteries created at the mountain crests are – with no exaggeration – a human miracle and prove how strong human will can be.
Those grey, carven rocks stand over the whole region of Kalambaka and seem like protecting it from every possible danger. This compact material reaches up to the bridge of Mourganios – Xirokambos – Skepario and Theopetra.
Kalambaka, the capital of the homonym eparchy, is situated at the north part of Trikala prefecture on the foothills of Meteora rocks.

It is still unknown how these rocks were created. According to a theory, they are a big river's silts, possibly Aliakmonas, during the Cainozoic period, 60 million years B.C.
Though, it is really impressive that historians don't mention this fact. It is estimated that until the Roman period the rocks were joined in together with sand or soil. But the rains, the tectonic earthquakes and other causes left the rocks solid. The thereafter aeolian corrosion gave Meteora their current shape.

The Meteora Monasteries
The East Orthodox Ascetic Monastery was created at the mountain crest of Meteora. It was founded during the 11th century when many exercitants from all over Greece came here looking for shelter. You can still see the remains of saint icons inside the rocks.
But the noise from the herds and passengers made exercitants seek for more quiet places. So, they decided to conquer the more abrupt rock crests, of more than 400 m height.
According to tradition, the exercitants tied ropes on eagle foots and when the ropes were clang on the crests, they climbed up using them. In reality, they reached the crests by making a wooden horse. In order to carry their things, they made a net.

There, at the mountain crest, they created 24 monasteries and hermitages. Today, many of them are saved in a perfect condition.
The Megalo Meteoro Monastery: It is the biggest monastery and was named after its founder, Athanasios Meteoritis. It is consisted by the catholic, which celebrates at the Transfiguration day. It was built during the 14th century. The old Holy Table now operates as a museum.
The Varlaam Monastery: It is the second in size monastery, after Megalo Meteoro. It is dedicated to Saints Pantes and was built in 1541. The old Holy Table now operates as a museum.
The Roussanou Monastery: It is dedicated to the Transfiguration. It was built in the middle of the 16th century.
The St. Nikolas Anapausa Monastery: It is dedicated to St. Nikolas. It was built in the middle of the 16th century.
The St. Stefanos Monastery: The small one-space monastery of St. Stefanos was built in the middle of the 16th century.
The Trinity Monastery: It is not easy accessible. The main part of the church is small, cruciform with cupola and was built in 1475.