Elafonissos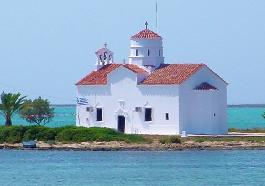 Elafonissos is located at the southeastern tip of Peloponese. It has an extension of 19 square kilometers and distance only 570 from the shores of Peloponesse' coast of Punta. This along with another 3 square kilometers of ground in Lakonia constitute the Community of Elafonissos. Administratively Elafonissos belongs to the municipality of Voion and Neapoli is the center of this municipality.

Elafonissos lies in front of the gulf of Vatika. According to archaeological findings, it is inhabited since archaic times.
The current name of Elafonissos (island of deers) is due to the rich hunting that existed in the area from antiquity to modern times. According to Pausania, in the region was found an ancient temple of Artemis, due to the existence of red colour deers (CERVI).
According to a different version about the region's name, it is said that a boat full of deers anchored in the area. A pregnant female deer escaped and stayed in the island. Some years later the land was full of deers. When the island was later inhabited, hunters killed them, but the name did not change.
During ancient times the region was also known as Onou Gnathos.

Elafonissos has one of the biggest halieutic fleets in Lakonia. At the taverns all around Elafonissos you will find fresh fish and a variety of fish dainties.

During your stay in Elafonissos it is worth visiting the prehistoric graves found at Pounta and the sunken city in Pavlopetri.
You can also see the hidden cave with the impressive stalagmite and stalactite interior.

Elafonissos is famous for its magnificent beaches. The shores are a pole of attraction for the visitors. The most famous of all is the beach of Simos (twin beach of Frango – Saracenico) at the south part of the island, right across Kythira. Characterisitc of the region is the emerald colours of the sea and the endless light gold sand. It is considered one of the best in Greece. Visitors are impressed by this exotic beauty. In August the beach blossoms with white crinums, which create a fairy picture.

You can also enjoy your swim or your favorite sport at Lefki beach, Pounta, Kalogeras, Panagitsa, etc.