Laganas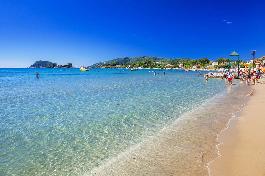 Laganas is the most famous summer resort of Zakynthos. It is located in the southeast part of the island, 11km from the town. Its beach, of 9km is considered one of the best in Greece. It is the most cosmopolitan beach of the island. Here you will meet with the locals and tourists of all ages enjoying the sun and the sea. Its shallow waters are safe for small children, while the good organization satisfies all tastes. The beach of Laganas is ideal for the lovers of water sports.
The Gulf of Laganas gained international fame as the refuge of turtle Caretta-caretta, which laid eggs in this beach. But the fast tourist development of the region, led turtles in seeking for more quiet regions with the ideal conditions. For the protection of marine turtle, the Gulf of Laganas is proclaimed as a National Sea Park. Construction of buildings was reduced, same and the noise, while mechanically driven boats were forbidden. Of course there are small boats to tour around the gulf and see closely the marine turtles. Marathonisi along with the islands Pelouzo and Agios Sostis are at the end of the gulf of Laganas. The small island of Agios Sostis was united with the land until 1633, when a severe earthquake cut it off. Today communication is done through a bridge.
Apart from the beautiful beach of Laganas, really close is the beach of Kalamaki with gigantic rocks. If you are seeking for a quiet and a relatively isolated beach, prefer Porto Koukla, right across Marathonisi.
The region around Laganas is one of the most developed in tourism. Here you will find many hotels and rooms to let. Nightlife here is high. The most famous bars and nightclubs of Zakynthos are here. You will also find many taverns, serving recipes of the local cuisine, but and restaurants with international cuisine.