CAVE APOCALYPSES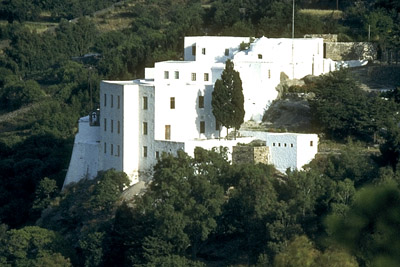 One of the most sacred lands in Patmos is the cave of Apocalypses. It is between Skala and the medieval settlement of Chora.
It is a small cave where Saint John lived for two whole years from 95 to 97BC. Inside this cave he heard the voice of Lord and wrote his theopneustic work, Apocalypses.
The Cave is surrounded by the monastery complex of Apocalypses built in the 17>th century, located in the lowest level of it, in a depth of 4m.
Going down the stairs to the Holy Cave, we meet the chapel of Saint Anna built right across the cave's entrance. It is said that Osios Christodoulos built this cave.
In its interior you will see the Cross, which according to tradition, was engraved by Evangelist Ioannis when he heard the voice that told him to write Apocalypses. You will also see the place where Ioannis lied and slept.
According to tradition Ioannis dictated Apocalypses to his student Prohoros.
Over the monastery of Apocalypses you will see the building complex of Patmiada School. It was built in 1713 and was an important spiritual and religious center. Many important men of the latest history and Orthodoxy were students in this school. Today it operates as an ecclesiastic school.