Grikos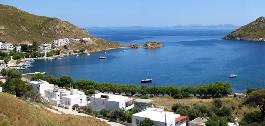 Grigos or Grikos is a graphic coastal settlement 4km southwest of Skala. It is built in the edge of the homonym gulf and has big tourist development.
You will find many hotels and rooms to let in the region, while in the beach are a lot of taverns and ouzeri with appetizers and recipes from the cuisine of Dodecanese.
Most impressive is "Petra" or "the Rock of Kallikatsou". It is a special natural site with folkloric legends. A narrow sandy ribbon that ends to a huge rock of 10m height and 80m periphery. There have been found the remains of an ancient temple. According to local tradition this rock used to be a house that petrified along with a daughter cursed by her mother.
Right across the rock is Tragonisi that protects the beach from winds. You can visit it with small boats that tour around the island.
In Griko you will find small beaches with sand and others with pebbles. Most crowded are the beaches of Psili Ammos with trees growing near the sea and of Diakofti. These two beaches are considered the most beautiful in the whole island. You can reach them by car or with small boats that tour around the island.