Nidri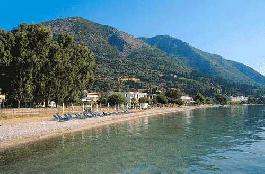 Nydri is the most busy-traveled tourist resort of Lefkada. One of the first regions with tourist development. It is located in the southeast part of the island, 17km from the town. The settlement is built in an idyllic location. Vineyards, fertile valleys and aromatic gardens attract visitors.
Nydri has a beautiful beach ideal for the lovers of swimming and water sports.
Right in front the marina you will find many shops, taverns and coffeehouses.
The small islands of Madouri with the old mansion of Valaoritis, Scorpio, Onasis private island, Scorpidi and Meganisi are right across Nydri. From Nydri you can take a boat and visit all those islands.
In Vlihou cape you will see the grave of the German archaeologist Daiperfeld, who believed that Lefkada was HomerĘs Ithaca and that Odysseus palace was there. A theory never confirmed. His grave is on the top of the hill, at the end of Vlihos peninsula. There is built the small church of Saint Kyriaki, which is built on the remains of Nymphon ancient temple.