Vasiliki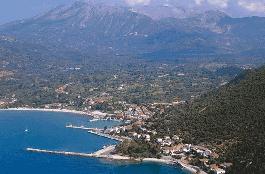 It is one of the most cosmopolitan tourist resorts in Lefkada. Located at the south part of the island, in a verdurous location, it is only 38km from the capital. Dense vegetation and an extended beach with crystal clear waters, make Vassiliki a pole of attraction to visitors.
It has one of the most beautiful beaches in Lefkada, with international fame. An extended beach that reaches up to Pontisó gulf, is ideal for windsurfing. The wind coming from up high to the valley creates the ideal conditions for it.
The small port of Vassiliki connects Ithaca to Kefalonia in daily bases. Small boats that take visitors to Porto Katsiki beach, anchor here.
Vassiliki distinguishes for her tourist infrastructures. You will find many hotels, rooms to let, taverns and bars. It combines a quiet vacation enjoying nature, with the opportunity to entertain. Excavations at Evgiros Chirospilia, brought into light findings of the Paleolithic and Neolithic Age. According to the archaeological department, ancient structural remains are found in Vassilkisó valley. But systematic excavations have not started yet.