Lourdata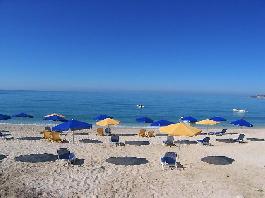 Lourdata village is built in a privileged location. The dense vegetation, fertile valleys, Aino's waters and hilly bulks protect gardens from strong winds and characterize the region.
Lourdata, administratively belong to the municipality of Livathous, which extends in the southwest part of the island. The village is 16km from Argostoli. In the region around it has developed viniculture, due to fertile valleys. Citrus fruits and vegetables are also produced.
The beach of Lourdata (Lourdas Beach) attracts thousands of visitors. Its beautiful beach is one of the most extended in the island. Here you will meet locals and visitors enjoying the sun and the sea.
During the last years residents have started to work with tourism. You will any type of accommodation units. Year by year the region changes and evolves to a cosmopolitan tourist resort.
It is worth mentioning that Andreas Sfaelos, commander of a fleet with 13 ships, came from Lourdata. He took part of the Revolution of 1821 and was killed in Skoulenios battle, fighting with the war lord Athanasios Karpenisiotis.