Lixouri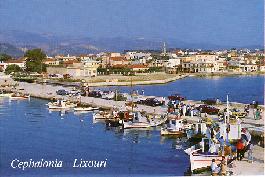 Lixouri is the second biggest town of Kefalonia. It is the capital of Paliki municipality, built in the place of the ancient town Pali or Paleokastro, one of the four most important ancient towns flourished in the island. It is not accidental that locals call it Piccolo Paris, as it is one of the most famous tourist resorts in Greece.
Characteristic of this region is the variform ground. Green hills interchange with beautiful shores and create landscapes of unique beauty that enchant every visitor.
The town was found at the beginnings of the 17th century with the name Lixouri.
While touring around it, the visitor understands its uniqueness. Historic monuments, museums, churches and imposing mansions characterize this town, which suffered a lot from the 1953 earthquakes. The biggest part of the settlement was rebuilt, always according to tradition.
One of the mansions saved from the 1953 earthquakes is that of Iakovaton, which hosts the homonym Library and the museum. It is worth visiting it and admire the mansion and the collections inside it.
While staying in Lixouri don't miss visiting the monastery Koronatou and Kipoureon. They are two byzantine monasteries with rare ecclesiastic heirlooms.
What is characteristic about Lixouri is its remarkable route in art and literature. In Lixouri was established the first philharmonic orchestra, one of the oldest in Greece, after that of Corfu.
In Lixouri you will find beaches satisfying all demands. Cosmopolitan, crowded, but and small isolated beaches. Among the most known are Platia Ammos on the road to Kamiranata village, Megas Lakkos north south of Lixouri, with a 5km extend. Close to it, is Vatsa beach. While one of the most known is that of Kounopetra. It was named after the rock that was moving in a rhythm inside the sea. This phenomenon stopped after the 1953 earthquakes.
In the gulf of Livadiou is the aqualand of Valtos – Livadiou, one of the most important in Kefalonia. It has a ground of 500 sq.m. In its waters are falling more than 100 creeks. Many species of birds find shelter in the region, such as white herns, swans, fasonetes, prasinokefali, etc.
Lixouri distinguishes for its tourist infrastructures. There are hotels and rooms to let providing a comfort staying to all guests. While in the taverns and restaurants you will taste the specialties of the local cuisine. As for nightlife, options are many. Bars and clubs with live music, satisfy all music preferences.