Tsilivi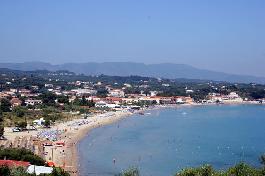 A coastal village, just 6km from the town of Zakynthos. Thanks to its magic beach and close distance from the capital, Tsilivi has evolved to a tourist resort. Year after year it is modernized and competes with the traditional and advertised tourist resorts of the island.
The beautiful extended beach of Tsilivi is a pole of attraction for the lovers of swimming. It is one of the best-organized beaches of Zakynthos. It has shallow waters ideal for small children. Tsilivi is also ideal for water sports, as it has all the appropriate infrastructures, but the north winds that blow create the appropriate conditions for windsurfing.
Right across Tsilivi is the small island of Vodi. Near the beach are many taverns and coffeehouses. In the same area you will find hotels and rooms to let.