Benitses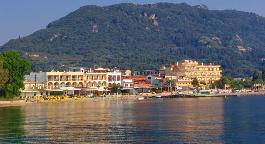 A cosmopolitan tourist resort with international fame, Benitses is for many the reason of their visit in Corfu. The once fish village has now turned into a summer resort with many hotel units.
It is only 12km from the city, located in the south part of Corfu. The tourist foundation of Benitses satisfies all tastes. The region is famous for its nightlife. It has many clubs and bars with greek and foreign music, as and clubs with live music for those wanting to stay up all night dancing.
The best spot of the village are its beaches with small pebbles that are highly organized and give you the chance to do water sports.
The region is of big archaeological interest, as in the yards of the families Kapsokavadi and Mprentatou were found the remains of a roman mansion and spa's with murals.
It is worth visiting the museum of Sea, built in 1989 by the diver- collector Napoleinta Sagia. There were found shells, corals, sponges, fossils, jaws, etc.