Xyloleriza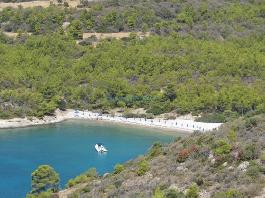 Xylokeriza is a remote and organized beach with sand and pebbles on the south side of the island.

Very quiet, with crystal clear, turquoise waters, in a very beautiful natural bay.

It is an ideal choice for those who want to swim in a lush natural environment and relax on its beautiful sandy beach.

You can reach the beach by public transport, starting at Agios Mamas Square, from May until the end of September. There is a bus stop on the ring road.

The best way though is with boats organizing day trips. They usually leave when they are full enough, or around 11am, and return around 4.30pm. ItĘs also a great way to enjoy the islandĘs coast-line.