Chora iou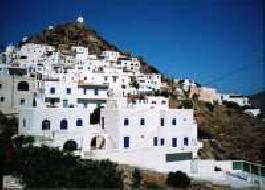 Chora, the charming capital of the island fascinates every visitor with its authentic beauty. It is located on the hill over Gialos, the island's port, 2 km from it. It's a graphic town that impresses anyone walking in its narrow paths, smelling the flowers and meeting yesterday with today.
The ancient settlement is now characterized tenable. As you walk around the cobblestone pavements and the old neighborhoods you discover the charm and beauty of simplicity. Small white houses, narrow paths and churches embrace Chora like protecting it from something evil.
The island has 365 churches in the whole. Most of them are located in Chora. On the top of the hill the visitor can see Saint Nikolaos, the protector of sailors, that seems to overlook the sea…
In the same spot you can see the remains of the Medieval Castle, dated from the beginnings of the 13th century. Under the castle between the abrupt rocks is built the church of Panagia Gremiotissa. The tradition says that the icon of Panagia holding Christ in her hands was found in Mylopotas' cove, inside the rocks and next to her a vigin candle lighting. The residents built in the same spot a church dedicated to the Dormation of Theotokos.
In the place that Ios' today town stands, was located the ancient town. In its entrance the visitor can see the remains of the ancient wall. While in the south part of the town you will see the remains of Pithio Apollo's temple.
In Skarkos are located the remains of the most important protocyclic settlement and in position Plakotos "Homer's grave". Visiting the archaeological museum you will see important findings from different periods of time.
In the east part of the town are located the Windmills. The 12 graphic mills of Ios are among the most beautiful sites of the island. Unique specimen of the local architecture contributed to the island's production. Today as inextricable part of its history are considered an important station to every visitor's tour around the island.
The open theater "Odysseus Elitis" of ancient greek style is another ornament of Chora. Built in a beautiful spot, our nobel awarded poet's favorite, is made of marble and has a capacity of 1100 people. Every year it hosts the island's cultural events. Among them Omiria, the most splendid event organized by the municipality of Ios.
Chora's tourist infrastructures guarantee a pleasant stay and many options for entertainment to all visitors.