Gialos (port)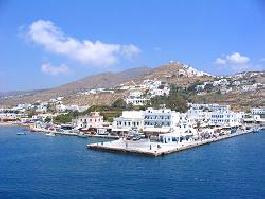 Ios' port, Gialos, as the locals call it, is one of the most safe and protected from winds, port. For this it is named "Small Malta".
The first thing you see as the ship approaches this graphic port, is the small church of Saint Irini built in Gialos' right entrance. It was built during the 17th century and has two Chancel tables.
Gialos is a small natural gulf protected from the winds and for this reason hosts many yacht races. It is one of the ports that can put up a lot of yachts.
Gialos' settlement is located 2km from Chora and it's as beautiful as the capital. A lot of houses are built in the island during the last years that tend to join these two settlements.
The port distinguishes for its tourist development. There are a lot of hotels and studios very close to the shore. As for entertainment it is comparable to Chora. Bars with greek or foreign music promise you animal spirits till morning. In the taverns you can enjoy delicious meals.
While touring around Gialos you will see a lot of department stores and tourist shops to buy souvenirs. You can swim in Gialo's beach and enjoy the sea. Very close to Gialos are the beaches Chrisi Akti and Koumbara very popular for their natural beauty and clear waters.