Faliraki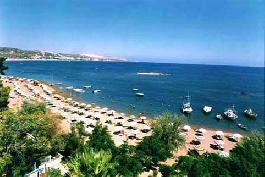 Faliraki is considered one of the most cosmopolitan summer resorts in Rhodes.
It is located just 12km from the island's capital and distinguishes for its remarkable tourist infrastructure. It has one of the biggest and best-organized beaches in Greece. Water and extreme sports, water park, famous clubs and thousands of tourists.
Among the sightseeings distinguishes the archaeological site in location Sarandapihos, close to village Kalithies, which is believed to be part of the acropolis from archaic times. Erimokastro, near the sea with ruins of the archaic wall and the old monastery of Prophet Amos on a hill just outside Faliraki.