Rhodes town (old - new)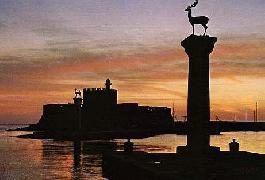 The town of Rhodes and capital of the island is built in the northest part of it. It is separated into the modern, new town, which has a cosmopolitan feature and the medieval town, which has big tourist development.
The modern feature of Rhodes is revealed in the enchanting capital, the so-called New Town. Neoclassic buildings and other of modern style give the town a special cosmopolitan atmosphere with a unique touch of glow. The heart of the town beats in Cyprus' square and the roads around it where you can find shopping malls.
As you walk in the roads of this town you will discover that Rhodes has everything a big city has and one more. A distinctive island identity and a nobility revealed in every street and path, in all the monuments and buildings, but mostly in the resident's faces.
Haven of the town is the coastal avenue. A stroll along the most popular road in the town will impress you. You will see the imposing buildings of the Nomarchy, the National Theater, the Post Offices and the church of Evangelism built during Italian period in 1912-43. Sit in one of the coffeehouses near the coastal road and relax enjoying Aegean Sea.
As for your nightlife, Rhodes will enchant you. Options in entertainment vary and satisfy all demands. Small bars and big clubs with greek or foreign music set fire in your nights!
Don't miss visiting the Medieval Town of Rhodes. The town of knights, the special ornament of the island. It is a live part of the island's history, as it is saved in very good condition and is still inhabited.
The Medieval town is unique at its kind in the whole world, saved in such good condition. It is characterized as an International Culture Inheritance Monument and it is protected by UNESCO.
It is worth mentioning that the town took its current feature during the 14th century by the Tagma of Knights of Saint John. The town had an interior acropolis, the famous Kastelo, with the buildings of the knight inside.
It has a shopping mall, where you can buy souvenirs from the island. You will find unique presents, such as copies of blazons and knightly eblems to remind you of your holidays in Rhodes.
Drink your coffee in the cafes of the old city and admire unique architectonic creations.