SKI CENTER PELION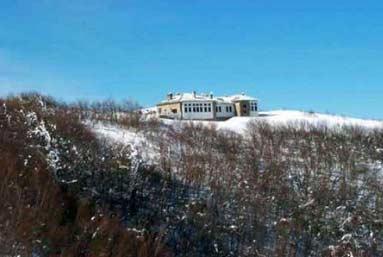 The
ski center of Pelion
is situated in the mythical mountain of Kentavros, in location Agriolefkes (1470m height).
It is only 27 km from the town of Volos and attracts a lot of tourists from all over Greece, as it is 330 km from Athens and 230 km from Thessaloniki. It is the ideal place for short getaways anytime of the year. It has really beautiful and picturesque villages, a pole of attraction for the lovers of travelling.
The Ski Center of Pelion operates since 1967 and it is one of the first in Greece. It was created by the Hellenic Alpine Club of Volos, while from 1997 it has come to the jurisdiction of the Developmental Magnesia Company.
Although it is a small ski center, it has many fans, as it offers a variety of activities and all the modern infrastructures. The green mountain of Kentavros with its legends and the magnificent view to Pagasetic Gulf create a unique landscape. The ski center is only 2 km from the hilly village of Hania and 12 km from the picturesque Portaria.
It has 6 runs for beginners and experienced skiers. Visitors can choose amongst the 6 lifts (3 cable and 3 trailing). The lovers of winter sports can try the strength run (Lang Lauf), the Cross country run, snowboarding, mountaineering ski and night ski.
For those wanting to stay here, there is a refuge that can host up to 80 persons. There is a restaurant, cafeteria, renting and buying ski equipment store and a ski school.
USEFUL PHONE NUMBERS
SKI CENTER 24280 73719, 73702
TSAGARADA POLICE STATION 24260 49222
ZAGORA HEALTH CENTER 24260 22222