MUSEUMS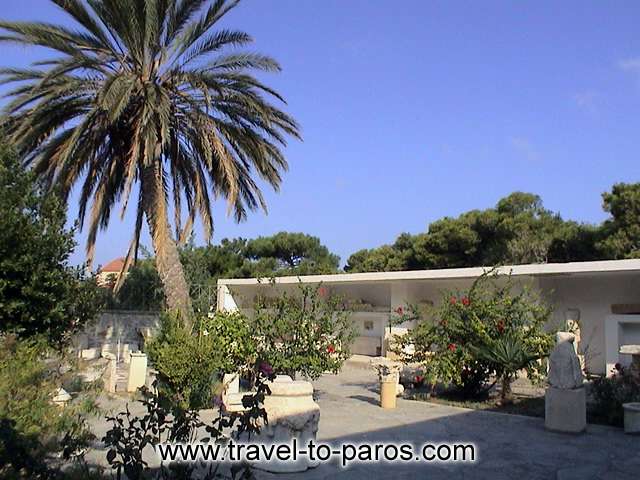 THE ARCHAEOLOGICAL MUSEUM OF PAROS
The archaeological museum of Paros is considered one of the most important-at its kind-in Greece. It is located in Parikia, behind Ekatontapiliani church and next to the high school of the town. It is roofed under a building, whose construction started in 1947 and completed in 1995.
Through the findings exhibited in its three showrooms, the visitor can see Paro's history from the neolithic to the protochristianic times. Among them distinguish the mosaic that shows one of Hercule's deeds, items from Cyclades Islands, the statue of Niki from Paros and of George, and vases from excavations in the residence on the hill of Koukounaries.

THE BYZANTINE MUSEUM OF EKATONTAPILIANI
It is roofed under the church of Ekatontapiliani. It hosts rare byzantine icons and sacred heirlooms. The icons of the collection are dated from the 17th and 18th century and are typical of this period's style. Highly impressive are the icons of the Crucifixion of the 17th century, Saint George's and the icon of Panagia with the name "Saint Ekatontapiliani".

THE BYZANTINE MUSEUM OF NAOUSSA
Naoussas' Byzantine museum is roofed under the monastery of Saint Athanasios. It is a monastery of the 17th century located in Naoussa's west entrance. There's a remarkable collection of byzantine and afterbyzantine icons dated from the 15th to the 17th century. Painters from Paros have made many of them. Among them distinguish the icon "Apocathilosi"of the 16th century, "Panagia holding the Holy Infant" of the 16th century, "Pantokratoras" of the 18th century and others.

NAOUSSAS' LAOGRAPHIC MUSEUM
In the graphic village of Naoussa is located the Laographic museum of the island. It hosts a remarkable collection of men and women clothing from Paros and other places of Greece. It is worth visiting and see the respect and love the artists showed towards tradition while creating this collection.

LAOGRAPHIC COLLECTION KAPARI
During your staying in Naoussa, don't miss to visit the Laographic collection Kapari. The doctor and collector Othon Kaparis bequeathed Naoussa his collection. It is a lifetime work of rare photographic material, old books and manuscripts, remarkable laographic collection and archaeological findings.