Koukounaries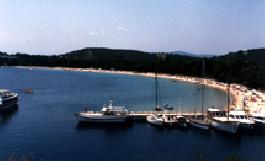 Koukounaries is one of the most picturesque locations in Greece. A dreamy shore surrounded by a dense pine forest, create a landscape of unique beauty.
Koukounaries are in the southwest part of Skiathos, 11km from Chora (town). It is one of the most famous beaches in Greece and without dispute, its photos have made the world tour.
It has a golden sandy beach, characterized as the most natural in Mediterranean Sea. This beach is highly organized, ideal for water sports.
Right behind the pine forest is Strofilia Lake. It is an important biotope that fills the dreamy scenery. Rare species of birds find shelter in the area all around the lake.
East of Koukounaries beach is Banana beach, preferred by nudists, as and the beautiful sandy beach of Agia Eleni. If you head north you will see the exotic Mandraki or Xerxi's port (according to tradition this is the port where Xerxis left for Artemisio), with high sand hills and then the isolated beach of Elia. Kokounaries are the ideal place for accommodation and cosmopolitan life. Beyond the famous beach, you will find many hotels, restaurants and bars.