Agia efimia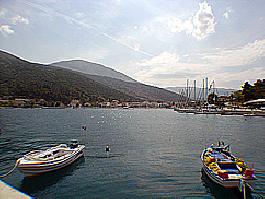 A beautiful village of Kefalonia that has evolved to a popular summer resort. It is located 31km northeast of Argostoli. The route to Agia Efimia is really enchanting. Green landscapes reveal the presents of nature towards the countryside of Kefalonia.
This coastal settlement is the head of Pilareon Municipality, characterized by natural beauties. Its boundaries are two mountains and two seas. The hilly bulks of Dinati on the south of the municipal and of Kalo Oros on the west. Also the famous beach of Myrtos as and that of Agia Efimia.
The small port of Agia Efimia is full of tourists, yachts and sailing ships every summer. The region is considered a cosmopolitan summer resort. Tourist infrastructures get better and better every year, satisfying all demands.
In the region around it you will see the small villages of Makriotika, Potamianata, Diavarata, Drakopoulata and Ferentinata. It is worth visiting them as they distinguish for their traditional identity.