Plaka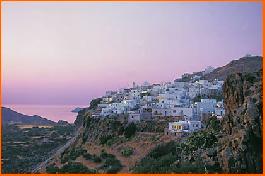 Plaka is the capital of the island. It is built in a height of 220m, over the cove of Adamantas. The settlement with the characteristic insular architecture and the cobblestone pavements is one of the most graphics in Cyclades islands. Enjoy walks in the old neighborhoods and your mind will be filled with pictures of the traditional life.
There are a lot of hotels and rooms to let in Plaka. Its tourist foundation satisfies the needs of every visitor in accommodation and entertainment.
It is worth visiting the Venetian Castle of the 13th century and enjoy the glorious view and a majestic sunset. Don't miss visiting the church of Panagia Korfiotissa. The church was built during the previous century. It hosts byzantine icons and a Sepulchral that is gilded and made in Smirni in 1600.
During your stay in Plaka visit the Archaeological museum of the island. Among the remarkable exhibits you will see a copy of Aphrodite. The original statue, this masterpiece of ancient times, is in Louver's museum.
Close to Plaka you will find many small beaches where you can swim. Among them distinguish the graphic port of Firopotamos and the beach of Plathmenas, in the north part of the settlement.