Mykonos town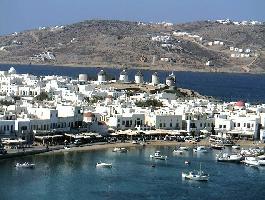 Mykono's Chora (town), the charming capital of the island, worths its rumor and proves it to every visitor. A stroll in its narrow streets is enough to discover the special beauty of her. The traditional architecture of Cyclades will impress you.
Walk in the narrow labyrinthine streets with the traditional pebbles and admire the plain architecture of the buildings. Buildings are in a straight line.
Small white houses with blue windows and wooden balconies express the Aegean style. Flowerpots with colourful aromatic flowers remind of old times.
As you go round the graphic cobblestone pavements you will see a lot of grandiose temples and small churches. The residents' deep faith is expressed in the churches of every island, town, and village.
In Chora (town), in settlement Kastro, is Panagia Paraportiani that is now considered as a national monument. Visit it and admire its excellent architecture.
The island is famous for its market. In Matogianni, the shopping street of Mykonos, you will find a lot of shops with folklore items, souvenirs, jewels and expensive clothes.
The coast road full of fishboats, remains graphic. There are a lot of coffee houses and taverns around it.
Don't forget to visit Alefkantra. Aegean's small Venice. You will be impressed.
Mykonos means partying. As soon as the night spreads her magic veils, decibels and adrenaline go up and the party begins. The whole island becomes one. Mixed sounds of different kinds of music come to your ears and challenge you to enter the right club. If you are more of a Greek music type, the options are many. Greek clubs with live music set the night on fire.
As for your accommodation, you will find a lot of hotels and rooms to let in Chora. Residents, with their warm hospitality, will make your staying in the island more pleasant.