Nea kallikratia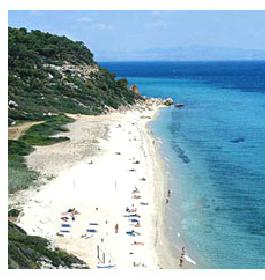 At a distance of 35 kilometers from the city of Thessaloniki, in the peninsula of Chalkidiki, there is one of the most famous tourist resorts of Chalkidiki, N.Kallikratia.

The town of N.Kallikratia is the seat of the homonymous municipality, founded in 1922 by the Greek refugees who arrived there coming from "Kallikratia" of Eastern Thrace.

According to archaeologists, the area has been inhabited since the Neolithic age, and there are remains of a prehistoric settlement.

Some very significant archaeological finds have been discovered in the area, e.g., the famous "Girl of Kallikratia" holding a dove in her hand, and a tombstone, curved in relief, with pediment, which is a work dating back to 440 B.C. and adorns the Archaeological Museum of Thessaloniki.

In modern history, Stomion, the metoche (monastery dependency) of the Monastery of Xenophon was located there, as well as metoches of other monasteries of Mount Athos. Featuring well-developed tourist infrastructure along with sublime landscapes including beautiful and spotless beaches, golden sands, and verdurous trees, N.Kallikratia has everything one might ask for.

Moreover, for the lovers of good life and entertainment, N.Kallikratia has a number of shopping centers and stores for anything they may need, as well as active night life. A cinema, a number of recreation areas and parks, cafeterias and bars, restaurants and traditional tavernas cover the whole spectrum of entertainment.

In N.Kallikratia, there is also a fully equipped medical center.